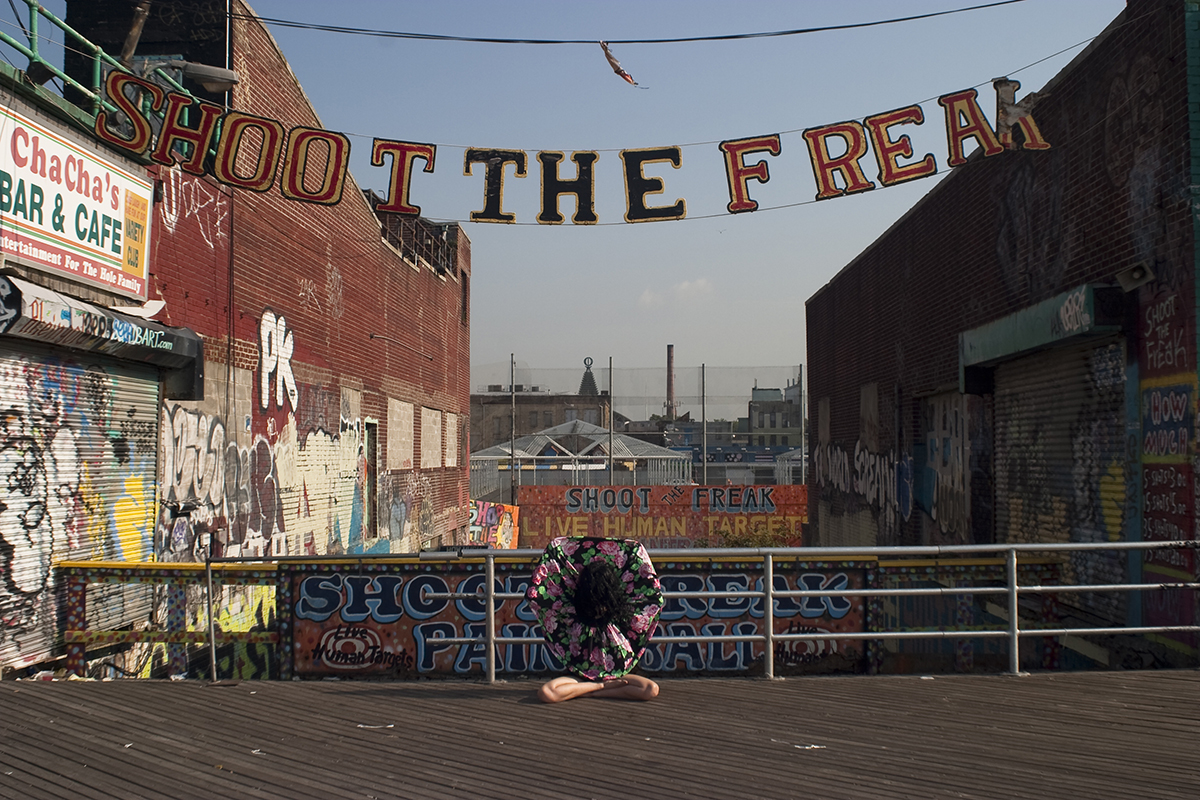 PERFORMATIVE PROJECT FOR THEATRE, MUSEUM, GALLERY & URBAN SPACE
concept Claudio Oliva & Vera Michela Suprani
con Vera Michela Suprani
staff Giulia Di Vincenzo
regia Claudio Oliva
produzione Teatro Deluxe 2011
con il sostegno di di Kollatino Underground, Roma
progetto semifinalista e al Premio gd'a – Giovane Danza D'Autore 2011 – Emilia Romagna
Coney Island, degradata terra di mare e divertimenti… In questo lavoro il corpo si fa luogo, incarnandone l' anima contrastata, oscura e suggestiva attraverso l'ambigua figura di una prostituta, donna-bestia-freak che esprime la complessità ed il fascino di questo quartiere dotato, come lei, di una sensualità mutilata.
Coney Island, degraded land of sea and entertainment… In this work, the body becomes the place, embodying the countered, dark and striking soul through the ambiguous figure of a prostitute, woman-beast-freak that expresses the complexity and charm of this neighborhood that has, like her, a mutilated sensuality.
The project was presented at: Arteficerie Almagià, Ravenna; The House, Modena; Teatro Dimora Mondaino, Rimini; Dimanche Rouge#4 – International Experimental Performance Events, Le Chapon Rouge, Paris; Altre Narrazioni – Symposium Exhibition curated by Andrea Fogli, MLAC – Contemporary Art Laboratory Museum, La Sapienza University, Rome; CAP03 Azioni di Danza su Strada, historical centre of San Giovanni in Marignano (RN); Contemporanea – Segni Teatrali, Segni (RM); Danza in Vetrina – Festival Ammutinamenti, Ravenna; Attraversamenti Multipli, Roma.